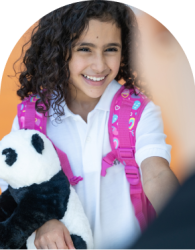 Welcome to Sanad Village
At Sanad Village, our mission is to provide compassionate and comprehensive support for individuals on the autism spectrum and those with related disorders. We are dedicated to enhancing the lives of our students and their families by offering a range of specialized services tailored to their unique needs.
Our Vision
To be a leading provider and center of excellence in the region and beyond to serve children and adults with disabilities in transitioning towards independence.
Our Mission
To provide effective habilitation programs for children and adults challenged by Autism Spectrum Disorder and other developmental difficulties through a multi-disciplinary approach using the most advanced scientific and evidence-based practices in a safe, enriching environment promoting independence, creativity, and socialization.
About Us
Sanad Village was founded with a passionate commitment to making a meaningful difference in the lives of individuals with autism spectrum disorders and other related conditions. Since our establishment in 2020, we have been dedicated to providing exceptional care, education, and support to our students and their families.
Our Core Values
Client Centered
Collaboration
Empathy
Integrity
Respect
A Hub for Growth and Learning
At Sanad Village, we serve students from a wide age range, offering specialized programs that cater to their unique developmental stages. Our programs are designed to provide support and opportunities for growth, whether a child is just beginning their educational journey or a young adult is preparing for independent living.
Diversity and Inclusion
We are proud to be a diverse and inclusive community. Our students come from various backgrounds and nationalities, reflecting the rich tapestry of our global society. This diversity enriches our environment and fosters understanding, acceptance, and appreciation of different cultures and perspectives.
Our Commitment to Excellence
Sanad Village operates on weekdays, from Monday to Friday, with hours of operation from 7:30 AM to 4:30 PM. Our commitment to excellence is reflected in our dedicated team of professionals, our evidence-based curriculum rooted in Applied Behavior Analysis (ABA) methodology, and our status as a private organization licensed by Dubai Health Authority (DHA), Dubai Economy and Tourism, and the Community Development Authority (CDA).