Brief Overview of the Therapeutic Boarding Program
Recognizing the importance of therapies and interventions in the lives of individuals with unique needs, the idea of a boarding program was born. This program is designed to cater to students who may not have local access to specialized therapeutic programs which are offered at Sanad Village. By offering a boarding option, Sanad Village extends its reach beyond geographical boundaries, ensuring that more individuals can benefit from their comprehensive services.
The boarding program not only provides students with access to therapies but also offers a structured and supportive environment where they can grow, develop essential life skills, and work towards greater independence. It reflects Sanad Village's commitment to inclusivity making a positive impact on the lives of individuals with determination, regardless of their location.
After enrolling in the Therapeutic Boarding
Program, the student will have access to the
services below
Accommodation and
caregivers  
Integrative Classroom
Therapy Program
Students enrolled in our boarding therapeutic program
will have access to all services provided by
Sanad Village, including:
1. Integrative Classroom Therapy Program
This Integrated Classroom Therapy Program runs daily, Monday – Friday, from 8am – 2pm ensuring the students are following a daily, structured routine. Within this program, students acquire essential skills, including classroom readiness, building friendships, learning, active participation in events, and various other activities.
Additionally, students have the opportunity to receive personalized 1:1 therapy session, such as Speech and Language Therapy, Occupational Therapy, and Physiotherapy, tailored to their specific needs.
Sanad Village's Integrative Classroom Therapy Program aligns with the academic calendar in the UAE, as indicated in the Sanad calendar. For boarding students, a tailored program that includes social and extracurricular activities will be in place.
2. Accommodation 
Sanad Village's accommodation offers both private and sharing rooms accommodation room with maximum of 2 students in a room. Depending on the student's case they may be recommended to be in a private room. All bedrooms are en-suite and have fitted wardrobes. Accommodation services are inclusive of housekeeping and catering. Parents are welcome to design their child's room in a way that is comforting and familiar for their child as long as it meets Sanad's safety standards. All bedrooms have natural sunlight coming in with a garden view. There's an emergency system in place along with CCTV cameras.
  Boarding students are accompanied by caregivers after the day program is finished and during the night while the student is sleeping (the caregiver remains awake during the night) as well as the weekends. Caregivers undergo intensive training on how to effectively interact with the student.  Both male and female caregivers are available based on student's needs, and work in three separate shifts to ensure continuous care and safety for the students.
3.Medical and 

Nutrition care
An in-house medical team is available 24 hours to address students' medical needs and emergencies. Students who are under medication or have a chronic medical condition are monitored by our medical team in collaborations with specialized doctors in local hospitals with parents' consent.  Sanad Village will be acting as the student's care-taker however parents are still need to cover their child's medical expenses and to choose the hospital and doctor that they want their child to visit. 
  Sanad Village has in-house nutritionist to ensure students are having balanced and healthy meals ensuring they're meeting their nutrient intake and maintaining a healthy weight.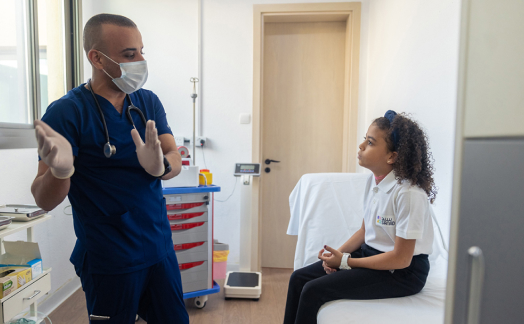 4.Extracurricular Activities 
Students are encouraged to participate in different activities that promote their inclusion and social development. The activities could range from simple activities such as art and craft, music classes, cooking to advanced programs such as participating in a sport competition, outdoor field trips, shopping, swimming, horseback riding and many others things taking into consideration student's medical condition and behaviour intervention plan.  
Communication
We strongly encourage parents to visit their children to spend quality time with them
and be involved in their treatment plan. At Sanad Village, we offer a communication
platform that allows parents to stay updated on their child's daily sessions.
Parents are advised to book an initial meeting/screening with the team, submit previous reports and fill out a few documents in order to allow the specialists to provide the best recommendation for your child. Sanad Village have several acceptance criteria for the Therapeutic Boarding Program with one of the key requirements being that students should typically be above 10 years old to be eligible for the boarding program.
For more information kindly call or
send WhatsApp on +971 4 587 6777.